Your Herff Jones Representative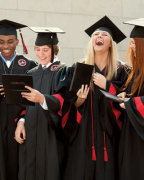 Gradpro Inc

Office Information:
Gradpro Inc
2126 Andrea Ln, Ste 1
Fort Myers, FL 33912
Get Directions
Office Hours:
Monday - Friday 9:00 a.m. - 4:00 p.m.
A Message From Your Rep
CLASS OF 2022
Welcome to GradPro, Inc/ Herff Jones office!
Enjoy designing and or ordering your classring online. If you have questions or concers, you can always contact our office to ask questions. Rings, Necklaces, Senior Announcements, Jackets,C&G's and awesome 2022 senior swag will be online to order in the next few weeks.
Follow us on FB!
Sorry there are NO Promo codes for our website.
Normal Office Hours:
Monday - Friday 9:00 - 4:00
Phones unavailable 12:00 pm - 1:00 pm
School Events
Senior Ordering
Senior Order for Cap & Gown, Announcements, 2022 Swag will be up and running in the next couple weeks. Please keep checking!