Your Herff Jones Representative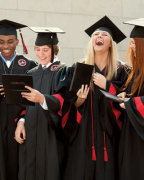 Gradpro Inc

Office Information:
Gradpro Inc
2126 Andrea Ln, Ste 1
Fort Myers, FL 33912
Get Directions
Office Hours:
Mon & Tues 12:00-4:00 Wed & Thurs 9:00-4:00 Fri 8:30-4:30
A Message From Your Rep
Vision is Clear Class of 2020
Welcome to GradPro, Inc/ Herff Jones office!
Enjoy designing and or ordering your classring online. If you have questions or concers, you can always contact our office to ask questions. Senior Announcements, C&G's and awesome 2020 senior apparel is online. Please check deadline dates from your class meetings.
Holiday Office Hours:
Open Monday December 23rd 8:30 - 4:30
Closed Tuesday December 24th - Friday December 27th.
Open Monday December 30 8:30 - 4:30
Open Tuesday December 31 8:30 -12:30
Closed New Year's Day
Regular hours resume January 2nd.