Your Herff Jones Representative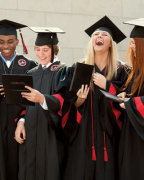 Graduate Service Inc/Cinn

Office Information:
Graduate Service Inc/Cinn
7022 Main St
Newtown, OH 45244
Get Directions
Office Hours:
Monday - Friday: 8:30am - 4:00pm
A Message From Your Rep
To Our Customers:
COVID-19 is a very fluid situation here in our nation and we are doing everything we can to stay on top of it. As always, the health and safety of our customers and employees is a priority.
With that said, we are offering a couple of ways to get your graduation products and/or class ring delivered to you! Please visit @gradservicecincinnati on Instagram or www.facebook.com/graduateserviceinc for a full list of details.
Thank you for your understanding at this time! We appreciate your business and look forward to celebrating your student and their accomplishments!
-The Graduate Service, Inc. Team