Your Herff Jones Representative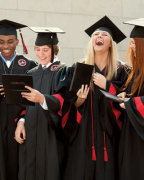 North Carolina Grad. Serv. Inc

Office Information:
North Carolina Grad. Serv. Inc
P. O. Box 977
Burlington, NC 27216
Get Directions
Office Hours:
Office Hours: Monday ~ Friday 7:00am-4:00pm You can always contact us via email at cwieczorek@herffjones.com
A Message From Your Rep
ONLINE ORDERING IS NO LONGER AVAILABLE-PLEASE CONTACT OUR OFFICE AT 336-228-7770
All orders will incur an additional $10.00 handling fee.
ATTENTION: If you have a Class Ring in our office. All Class of 2020 class rings must be paid in full before Fine Paper Items and/or Cap & Gowns will be delivered.
**************Duplicate Diplomas****************
If you are seeking a duplicate copy of your high school diploma we will need a Certified, Sealed copy of your high school transcript. This can be obtained through the school or school system from which you graduated. Duplicate diplomas cannot be ordered without this information. Duplicate diplomas can take 4-6 weeks for production.
**There is an $8.00 residential shipping fee to ship class rings to your address**
***Returned Item/Decline Payment fee for any form of payment - $30.00***