Your Herff Jones Representative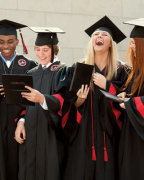 Herff Jones/Shrewsbury's Graduate Supplies

Office Information:
Herff Jones/Shrewsbury's Graduate Supplies
4634 Lawrenceville Hwy Ste B
Lilburn, GA 30047
Get Directions
Office Hours:
Mon 9am-12pm, Tue-Fri 9am-3pm
A Message From Your Rep
Changes or cancellaions must be made within 72 hours of placing your order. AFTER 72 HOURS, THERE ARE NO REFUNDS ON ORDERS.
All merchandise ordered (including Class Rings and Letter Jackets) MUST BE PAID IN FULL in order to receive your Cap & Gown.
FINAL PAYMENTS ARE DUE BY FEB 20, 2022.
Make Credit Card Payments online at www.highschool.herffjones.com
(Click on Make A Payment As Guest)