Your Herff Jones Representative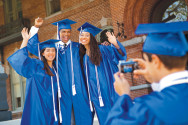 HERFF JONES

Contact:
Office Information:
HERFF JONES
Po Box 2152
Danville, CA 94526
Get Directions
A Message From Your Rep
Thank you for your order!
Place a Class Ring order today.
Don't delay!
Hoodies, T-shirts, Key Rings, Bling and Stack Tassels, Drawstring Bags are DELIVERED NOW
For Orders Placed after we are at school, your order will be distributed at school.